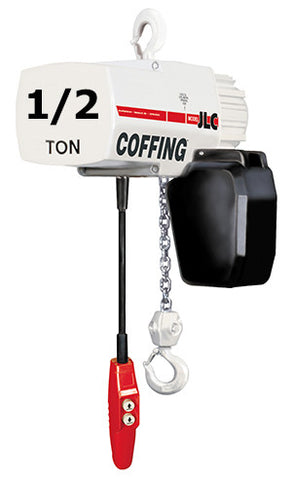 1/2 Ton Coffing Electric Chain Hoist - 16fpm - JLC1016
JLC1016-1-10
JLC1016 Chain Hoist is designed for industrial duty performance. Compact in size, the Coffing JLC1016 chain hoist features a multiple disc motor brake, overload clutch, and chain end stop for safety.
Standard Lead Time = 5-7 business days for production + Transit time. *Certain models in stock ready to ship - call 800-724-4052 to check availability*
*Free Chain Container Included with Each Purchase!
Voltages - 115/230 single phase & 230/460, 208 - three phase, 60 hertz standard. 50 hertz available upon request. 380, 415, 575 3-phase available upon request.
Limit Switches - Adjustable to regulate upper and lower load travel.
Oil Bath Transmission - Precision machined alloy steel gears run in oil bath for longer, quieter operation.
NEMA 3R Push Button Station - Ergonomic design fits operator's hand for thumb or two-handed operation. 24 Volt Control for operator safety. 115 Volt Control available upon request.
Frame - Compact aluminum housing for portability and ease of installation.
Chain Container - Standard on models with lifts up to and including 20 ft. (single chain).
Power Cord NOT included on Motorized Trolley Versions (Direct Wire). 15' Power cord on hook and manual trolley models.
Motorized Trolley NOT available on Single Phase Power Units
Hook Mount
| | | | |
| --- | --- | --- | --- |
| Capacity | Lift | Electrical Phase | Model Number |
| 1/2 Ton - 1,000 lbs. | 10' feet | 1 - Single | JLC1016-1-10 |
| 1/2 Ton - 1,000 lbs. | 15' feet | 1 - Single | JLC1016-1-15 |
| 1/2 Ton - 1,000 lbs. | 20' feet | 1 - Single | JLC1016-1-20 |
| | | | |
| 1/2 Ton - 1,000 lbs. | 10' feet | 3 - Three | JLC1016-3-10 |
| 1/2 Ton - 1,000 lbs. | 15' feet | 3 - Three | JLC1016-3-15 |
| 1/2 Ton - 1,000 lbs. | 20' feet | 3 - Three | JLC1016-3-20 |
Plain Trolley
| | | | |
| --- | --- | --- | --- |
| Capacity | Lift | Electrical Phase | Model Number |
| 1/2 Ton - 1,000 lbs. | 10' feet | 1 - Single | JLCET1016-1-10 |
| 1/2 Ton - 1,000 lbs. | 15' feet | 1 - Single | JLCET1016-1-15 |
| 1/2 Ton - 1,000 lbs. | 20' feet | 1 - Single | JLCET1016-1-20 |
| | | | |
| 1/2 Ton - 1,000 lbs. | 10' feet | 3 - Three | JLCET1016-3-10 |
| 1/2 Ton - 1,000 lbs. | 15' feet | 3 - Three | JLCET1016-3-15 |
| 1/2 Ton - 1,000 lbs. | 20' feet | 3 - Three | JLCET1016-3-20 |


Motorized Trolley
| | | | |
| --- | --- | --- | --- |
| Capacity | Lift | Electrical Phase | Model Number |
| | | | |
| 1/2 Ton - 1,000 lbs. | 10' feet | 3 - Three | JLCMT1016-3-10 |
| 1/2 Ton - 1,000 lbs. | 15' feet | 3 - Three | JLCMT1016-3-15 |
| 1/2 Ton - 1,000 lbs. | 20' feet | 3 - Three | JLCMT1016-3-20 |
---
We Also Recommend
---